Welcome To Know Our Products, We Can Offer You High Quality Products!
Spiral cooling conveyor
---
Spiral cooling conveyor double-sided nylon stuck rail is very stable, any block do not occur.
---
Spiral cooling conveyor PRODUCT DESCRIPTION
Cooling towers for bread cooling in automatic production lines, customized according to customer's output and site.AOCNO's spiral coolers meet your needs to optimize time, cost and production space.
The cooling tower is specially designed for high-capacity bakery production, which can cool the bread from the oven at natural temperature so that it can meet the packaging requirements, the spiral structure of the cooling tower saves space, and the machine size is calculated according to the required cooling time and output.
AOCNO spiral conveying cooling system can be integrated into the existing production line, or can work independently, it can be carried out at normal temperature, or in a closed insulation room (completed by our technicians).
The spiral cooling tower designed by AOCNO is suitable for the cooling process of the baking production line, which can provide you with a tailor-made solution and ensure its performance.
Spatial organization: Spiral system, the shape of the spiral can be customized: circle, oval or similar "8", which can take up less space.
Spiral cooling towers are custom designed to perfectly meet customer needs. Spiral cooling towers can be used for natural air cooling or fast freezing.
Spiral cooling tower systems are an integral part of modern food production and play a key role in the automation of the production process. They can be used to organize various types of food processing such as freezing, cooling, fermentation, transportation.
The mesh belt is made of 304 stainless steel and the skeleton is made of 304 and 201 stainless steel square tubes.

Belt width range

200 mm-1300 mm

Belt length range

Single tower length 50 meters - 1200 meters

Tower diameter range

1.5-12 Meters

Layer height

Spiral tower up to 6 meters

Tower Layer range

1-40 layers

Entrance&exit direction

Low inlet high exit high inlet low exit
two in and two out, three in and three out, ellipse
Spiral cooling conveyor DETAILS
1.double-sided nylon stuck rail is very stable, any block do not occur
2. The intelligent ive technology make the belts automatically adjust the tension, and keep the same transmission force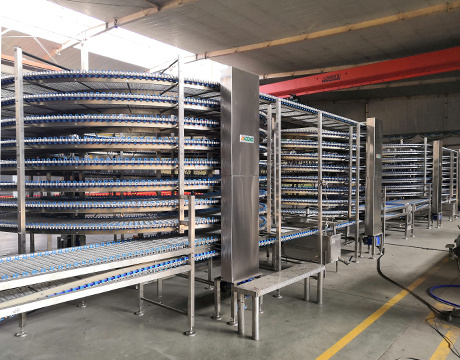 3. Because of the high strength nylon stuck rail and low friction coefficient ultra high molecular slide, donot need lubricating oil when rotating, do not need maintenance or replacement, and will not drop anydebris dirty the food
4. Any infeed/outfeed direction design are available
Equipped with high quality converter, reducer and Schneider electric components
304 stainless steel belt, 304 or 201 stainless steel structure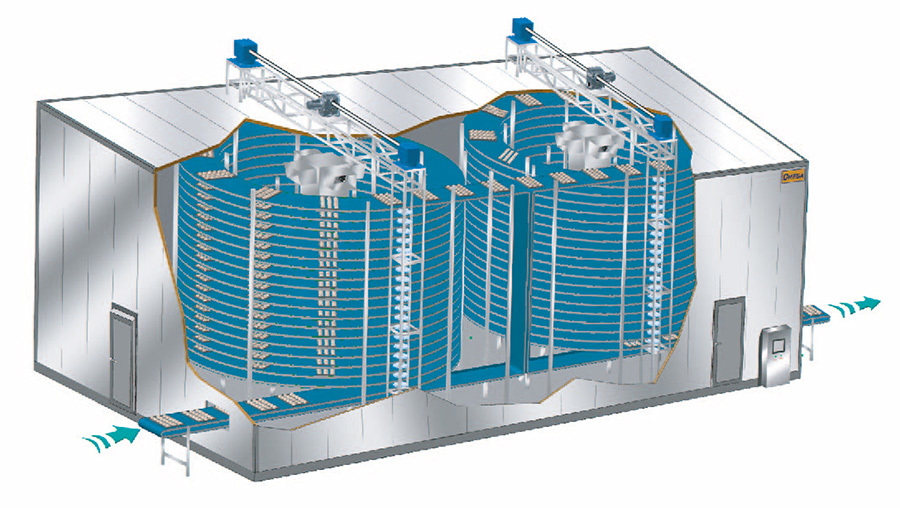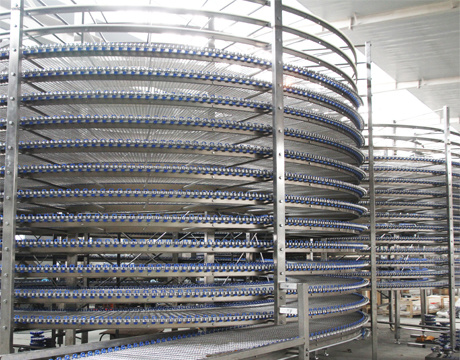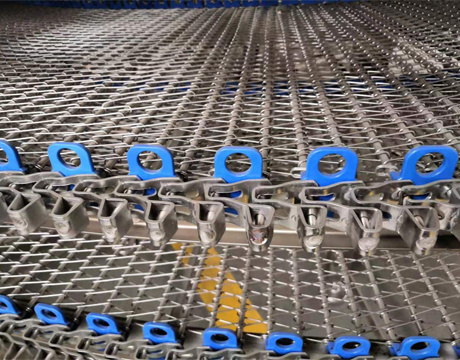 High strength nylon conveyor belt and low friction food grade PP guide rail, screw conveyor has automatic lubrication system, no need to add lubricating oil
We can design different input and output directions according to the customer's workshop area, such as low input high output; high input and low output.
The following elements can be customized: material, length and width of the conveyor belt. The height, diameter and number of layers of the tower. Infeed and outfeed directions.
It is mainly used for the cooling of hamburgers, moon cakes, toast, French bread, and caterpillars. For varieties with large bread production and long cooling time, we can customize large and small spiral towers, single towers, and double towers for you.
Spiral cooling towers are equipped with best frequency changer, high-quality reduction box, and Schneider Electric components.
The Conveyor belt is made of stainless steel and the skeleton is made of stainless steel square tubes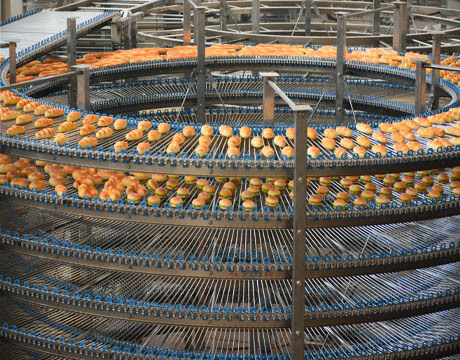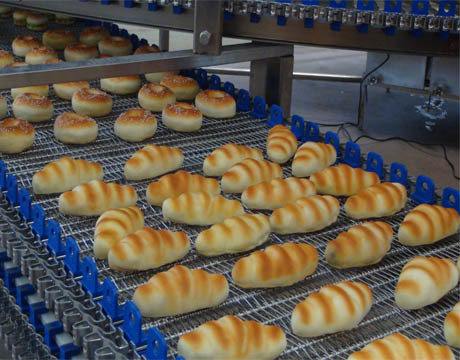 In feed and out feed direction and Shape of the tower (round,oval,vertical) is customized.
Please note us the capacity,cooling time and the size of the food you make.
In order to develop a more detailed plan, we need the following information:
Product Category
workshop area
production capacity
feed temperature
Discharge temperature
Spiral cooling tower is a device that cools bread, moon cakes and pastries baked at high temperature by means of spiral conveying up and down. Spiral conveying tower is widely used in delayed conveying equipment of automatic continuous production line of bread food, suitable for cooling, freezing or fermentation of bread and other processes.
1.Cooling
Cool all kinds of bread food, which can be divided into two types: natural cooling and fast freezing.
2. Fermentation:
We supply accurate humidification air circulation and heating system, so that the conveyor surface of the spiral tower in the fermentation process of bread dough is connected with the front and rear interfaces of the general spiral tower to match the production line, which can improve the production efficiency for users on a large scale, save space, and the whole fermentation process The process realizes unmanned automatic production through the monitoring system.