Welcome To Know Our Products, We Can Offer You High Quality Products!
bakery oven
---
bakery oven Heating fast, uniform colored, keep the same temperature, make sure your product competitive.
---
bakery oven PRODUCT DESCRIPTION
Tunnel oven is used for continuous baking in fully automatic bread production line, customized according to customer's output and site.
Tunnel oven are continuous baking equipment that can use direct gas or indirect heating. As the core of the production line, the tunnel oven determines the output capacity of the bread factory. The output of AOCNO's screw divider, proofing room and spiral cooling tower can be matched with the tunnel oven.
Radiant heating - direct gas ovens, electric ovens, and indirect radiant ("circulating heat")
Ovens Conductive Heat Transfer - Oven with Preheated Heavy Mesh Belt and Steel Belt"Convection"
Baking - Direct and indirect convection ovens transfer heat by jetting hot air over the product. There are also "recirculating" ovens that combine convection and radiant heat transfer.
Heat transfer in a direct gas oven is primarily by radiation from the gas flame and from the top, bottom and oven walls of the oven.
Indirect radiant ovens can provide very stable radiant heat and are favored by many food factories.
A "closed" cycle system retains and recirculates hot gases from the burner, helping to improve fuel efficiency. Suitable for all types of products
Spec

Tray size
(mm)

Inner width
(mm)

Inner height
(mm)

External width
(mm)

2 trays

600*400

1450

210

2375

3 trays

600*400

2050

210

2975

4 trays

600*400

2650

210

3575

5 trays

600*400

3250

210

4175

6 trays

600*400

3850

210

4775
AOCNO's Tunnel Oven includes two kinds, one is gas type and the other is electrical heating type. Both of the inward and outward are made of stainless steel materials. It combines hot air convection, heated air circulation, together to ensure the food heated evenly. It can be applicable in baking any kind of bread, cake
We can customized the length and width according your capacity.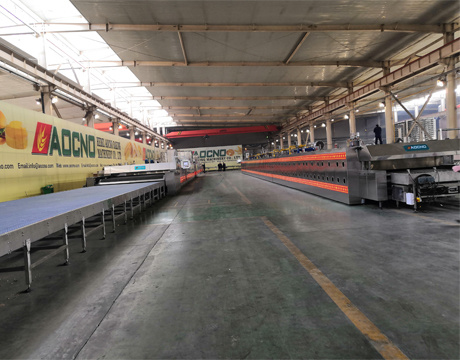 It adopts large-capacity environmental protection mineral wool board insulation, imported frequency converter governor drive, PLC computer program editing program and controller to control the operation.
Stainless steel material, bundled plate conveying, wear resistance, high temperature resistance, heating section, layered section, upper and lower fire, temperature control, temperature control range 0-300 degrees.
Structure: The equipment is composed of electrical control system, mechanical transmission system, skeleton system, electric heating system, food delivery system, exhaust ventilation system, etc .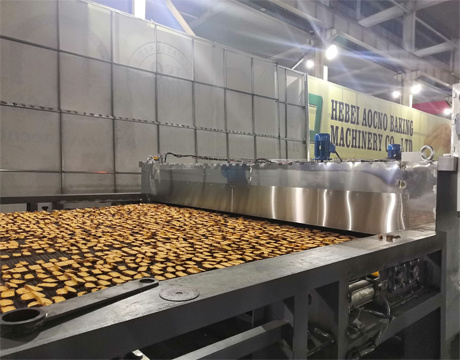 Continuous baking oven, suitable for food automated production. The large production of a single product manufacturers can use it for production line, improving efficiency, saving manpower and producing perfect colored products. it can store baking program, and achieve intelligent automated production.
1. Over 30 years technology and experience
2. Achieved adjustable burning, save energy and improved safety
3. Safety control system uses international advanced accessories
4. High strength steel structure, high density insulation materials, avoid oven deformation because oflong time heating
5. Sufficient burning, save energy
6. Baking various products, with good taste
7. Customized according to air type and length of the oven, used in production line for mooncakehamburger, cake etc
8. High quality materials, Japan self-oiling chain, global brands control element, SEW, NSKSchneider, Omron, make the oven 20 years service life.
9. Heating fast, uniform colored, keep the same temperature, make sure your product competitive
10.Every 3 meters a control part, you can control baking temperature according to product require
1. Intel ligent guide operation system, to avoid error operation
2. Fault alarm system guide the operator to solve the problem efficiently
3. Gas pipes multiple safety protection control system, to strengthen safety protection
4. Flame-out automatic checking and processing system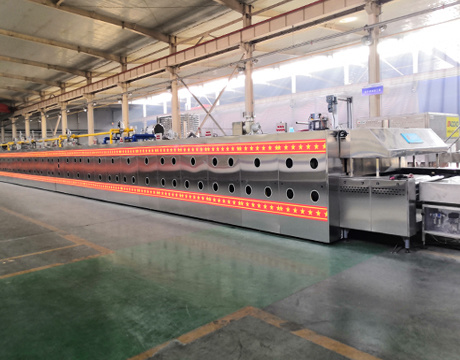 5. Gas over-standard concentration automatic checking system, make security assurance
6. Air flows in the chamber before lighting to make sure the oven start safety level
7. Anti-back fire mode is used to increase safety level
8. Second forced to burn. make sure sufficient burnin
9. Zero pressure system, totally avoid safety problems