Welcome To Know Our Products, We Can Offer You High Quality Products!
Automatic Tilting Mixer(dough mixer)
---
---
Automatic tilting mixer
Model

ACN-MF130

ANC-MF160

ACN-MF200

Power of Main Motor(kw)

Low Speed

3.6

4.6

4.6

High Speed

5.25

7.5

7.5

Rotating Speed of The Auger(r/min)

Low Speed

92.5

92.5

92.5

High Speed

185

185

185

Capacity(kg)

Dough

24-130

32-160

40-200

Flour

15-80

20-100

25-125

Water

9-50

9-50

15-75
1. This is a compact self-tilting mixer, coupled with a dependable and safe hydraulic elevator-tipper. This innovative system provides the time saving facility to vertically raise and rotate the mixer to tip the dough directly onto a suitable bench or work surface.
2. The self-tipping spiral mixers consist of a fixed bowl mixer and a hydraulic elevator system which can tip the dough onto table-top or on dough dividers hoppers Once the stainless steel grill which protects the bowl has been raised, the machine can be tipped up to the designed unloading height.
The characteristic of the tipping dough mixer is that the dough can be automatically dumped on the worktable, which is easy to operate and suitable for the industrial production of various soft and hard doughs and high-gluten doughs. The capacity of the dough mixer is from 200kg to 300kg.
3. The entire machine uses Japan Three Stars and American Gates belts. Silent double-speed motor and intelligent belt transmission structure imported from the United States.The mixer hook and center rod are made of stainless steel, and the bowl is made of 304 stainless steel.
4. Automatic tipping, suitable for industrial production of various hard and soft dough and high-gluten dough.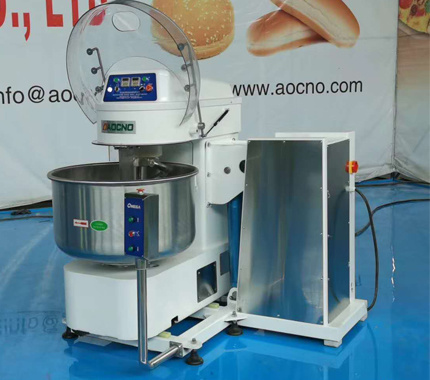 5. With Overload Protection, avoiding the equipment damage in abnormal condition
6. High strength belt is introduced to Transmission
7. The Auger is made of High Strength Stainless Steel, able to wear well
8. We can provide the following type of Power according to customers demands: 230V/50/3PH