Welcome To Know Our Products, We Can Offer You High Quality Products!
The water chller is a device used to cool the water used in dough mixing, ensuring optimal temperature during dough mixing.
The consistent water temperature is important for the dough mixing process, the water chiller machine system can keep the dough at the best temperature. The machine is very suitable for food factories, bakeries, pizza and pastry industry
Lowest outlet water temperature: 3℃,with Siemens touch screen, Emerson refrigerator
water chiller machine prices vary according to the price of different models.
Advantages: more hygienic, no cooling water build-up. Consistent water temperature is closely related to the high-quality bakery.
It cooling water with fast speed and low noise.It is made of food-grade SIS304 stainless steel plate, which is easy to clean.
It is the most ideal equipment for making ice water!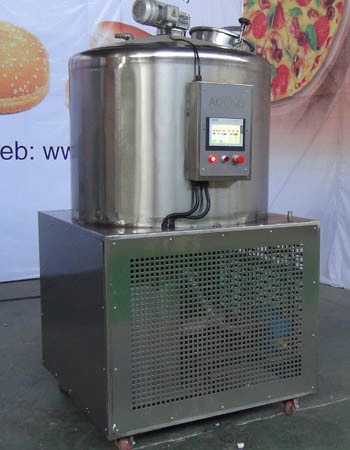 Immediate reading water temperature
Water flow max 25 LT/MIN
Water in pressure 2 bar max
Capacity: 300L, 500L, 1000L
Can produce 3℃-5℃ water
The chiller machine provides instant chilled water during the baking process at 25 liters/hour. And with an intelligent digital panel, including the set temperature and required chilled water delivery.